Guide to Collecting and Investing in Numismatic
Ancient Greek and Roman Coins
Written by ancient numismatic coin expert, dealer and enthusiast to make the field easy and fun!
Table of Contents
Ilya Zlobin is an expert, dealer and enthusiast, specializing in numismatic ancient Greek and Roman coins. His website is www.TrustedCoins.com. Running a successful online ancient coin store and sharing his passion with the world, he has developed the knowledge of ancient coins by working with authentic examples of them. At the time of the writing of this book, he has identified over 40,000 authentic ancient coins and artifacts. People from all around the world appreciate the beauty of the amazing presentation, along with the professional description that is world-class. Ilya Zlobin stands out from the rest by providing professional certificates of authenticity and a lifetime guarantee of authenticity for all items purchased from him. The benefit that this allows is that his patrons receive a $50-$100 value without adding anything to the price. It is very important as it is best to deal with an honest, reputable dealer. Items are usually in the next morning's mail and a tracking number provided. As of May, 2014, Ilya has 99.9% positive feedback, which demonstrates that he is willing to go the extra mile to have loyal patrons for a lifetime. You can visit his eBay store through his website: www.TrustedCoins.com


Click the video, or type into your browser: https://vimeo.com/94668518
First ancient coins go back to as far as about 650 B.C. They span the ages of the Ancient Greeks, the Ancient Romans the Byzantine and other Kingdoms and Empires. A fascinating time period to collect that encompasses close to 2000 years. You are about to embark on a journey that will take you through history, mythology and so much more. Ancient numismatics, and collecting ancient coins is important as it allows us to preserve the history for future generations. Private ownership of ancient coins keeps us connected to the history of the modern world.
Purpose
This work is designed to be a living document that I plan to update periodically with more and more information on the subject of ancient coin collecting, investing and so much more. The idea is that ancient coin collecting can be brought into the hands of everyone in the world that is connected to the internet. This should allow you to explore easily and quickly the vast topic to see what you are most interested in.
How to Use This Book
You may have ordered the print version or Kindle version of this book and although you may find the lists and ideas about ancient coins amazing, this book is meant to be interactive. The latest version of it is available at www.AncientGreekRomanCoinsforSale.com where you can take advantage of the ability to read the articles and watch the videos, and it is easily accessible on any computer or smart phone. I have a lot of information that may be best expressed in video format. I believe in the internet age, that we should take advantage of all forms of communication. It is exciting how freeing and more efficient technology is making it for the entire world. If you see this book online, it includes easy-to-follow clickable links which allow you to see more information or even coins on that topic.
Get Free Education Emails
Get emails, videos, articles, and news about amazing discounts I have available via my free email update list: www.List.TrustedCoins.com
---
Below are all different versions of this book you can enjoy. The book having many great links, which are clickable on the online version or PDF download versions.. You can print the PDF version on your own computer to have printed version that you can make notes on. You also have the possibility to buy the book for your Kindle or a print version too. I would much appreciate a positive review on the Kindle or Print version if you find this guide useful.
Online version: AncientGreekRomanCoinsforSale.com
PDF Download version: http://bit.ly/coinguide - right click the link and select "save link as" or "save target as"
Buy Kindle version: http://bit.ly/coinbookonkindle
Buy Print version: http://bit.ly/coinguidebook

---
You will learn in this video about the different types of ancient coins available out there. Some topics covered in this video are Greek coins, Roman Imperial Coins, Roman Provincial Coins (Also Known as Greek Imperial Coins) and Byzantine coins. Increase your knowledge about the different ancient coin types with this educational video. Enjoy!
Click the video, or type into your browser: http://vimeo.com/69864962
---
Click the video, or type into your browser: http://bit.ly/coingifts
Ancient coins make some of the best gifts for men and women. Ancient coins make great top Christmas gifts you can get. Some great occasions to give ancient coins as are for Fathers Day, Mother's Day, a birthday, graduation, wedding, Valentines Day. A girl or a boy would also appreciate such an interesting gift because it would be a great teaching tool and may make them want to study history. You can find a great gift for him just as well as you could for her. These are also great gift ideas for mom and dad. Great for boyfriends or girlfriends. What is cool about ancient coins is that not many people ever would think of giving them, so that makes them truly priceless when received. Guys who love films such as Gladiator, Troy, The 300 can really appreciate getting such presents. What is fantastic is that you can find your gift online and get it delivered with great speed and presentation that they could appreciate. These are also some great novelty gifts for friends! With so many great topics to choose from, these gifts can be personalized. Getting your gift online and delivered to your door can be done quickly and expedited shipping is available. Items are usually mailed by the next business day. All items that are sold here are guaranteed authentic for a lifetime. Happy gift finding.
---
Click the video, or type into your browser: http://vimeo.com/83541979
I writing this article as an ancient coin expert, dealer and enthusiast of many years. Having identified over 36,000 ancient coins and sold many on eBay, I have some simple techniques that make coin collecting fun and organized. This is geared for those that want to manage their small to large coin collection with effectiveness and professionalism. I cover topics such as where to buy, how to keep records and how to organize and display your coin collection.
Shop with Reputable Coin Dealers

Shop with a reputable ancient Greek and Roman coin dealer. It is best if he/she has a great track record and provide a guarantee of authenticity. Also a beautiful certificate is also an added bonus. A reputable seller would be happy to give a refund or exchange should professional coin grading companies or people such as David R. Sear or NGC find a coin is other than described.
Keep Records
When you buy coins, get the certificates of authenticity keep them in a standard vinyl binder in sheet protectors which you can get an any place they sell office supplies. You can also print out a receipt of the PayPal payment you sent and possibly the contact details of the seller you bought from. I have had personal experience when I purchased a coin from another dealer and since I did not keep the receipt at the time, it left a sour taste in both of our mouths when I had to return the coin, I knowing that I bought it from them and having no proof. So this would facilitate an easy return and refund as you kept a record of the item. This way you can buy from many different dealers, and also remember how much the item cost, should you want to sell it in the future, plus you have the description right there, should you want to place it on eBay or another venue. Another helpful technique is to write a little item number of the coin and write it on the little slip of paper that coin in the coin flip and having a list where you write the number where you kept it. Think also about this, a lot of collectors don't keep records and if they pass on and nobody in the family ever got involved with the coins, nobody knows how much they paid, so they may not got the price the original collector paid. Something worthwhile to think about. Keeping score is very important.
Keep Your Coin Collection Organized
I recommend keeping your coins in boxes that are of standard size a 2X2 inch standard. The coins themselves I recommend in non-plasticized coin flips, I recommend getting the package with the little papers so that if anything you can write info on those, such as how much you paid or corresponding to your record keeping system. If you want to display your coins, you can put them on a tray and enjoy their beauty. So below are the coin flips, trays and boxes I use everyday for storage and display of my coins:
Plastic Coin Box for 2x2 Coin Holders
---
Ancient Greek Roman Byzantine Medieval Coins Reference Books Guide and Review [Video & Article]
Click the video, or type into your browser: https://vimeo.com/83543951
This is a review of the best books and references online and in book form on ancient Greek, Roman and Byzantine coins available. Having spent many years collecting and selling ancient Greek, Roman and Byzantine coins, I have developed quite an extensive library. The links below is a culmination of being years in the field, and I hope you can appreciate that. You have access to practically all the books on numismatics and history I have on my shelves! I have paid much higher prices than the ones that are available from the competitive Amazon marketplace, for which you have easy to navigate links to save you much time. My goal is for others to develop an even greater appreciation of history and ancient numismatics through these great works (and perhaps develop an even greater base of educated patrons in ancient coinage). What is exciting about them is that they don't just give you the coins, they also give you the historical context in which they were based. Visit my site www.TrustedCoins.com to be able to own your own ancient coins described in these reference works, or sign up to my educational and special deal email newsletter at www.List.TrustedCoins.com
Many books mentioned here are by David R. Sear, which you can buy directly from the author here.
Otherwise, there are links below to find them on Amazon.com.
May this special list of books on ancient Greek, Roman, Byzantine numismatics and history give you an easy to use guide to building a great library, all in one easy place.
---
Greek Coins and Their Values (Hb) Vol 1: Europe
---
Greek Coins & Their Values Vol. 2: Asia and Africa
---
Greek Imperial Coins and Values, The Local Coinages of the Roman Empire
---
Byzantine Coins and Their Values
Free online reference with the coins indexed by the numbers from this book. Best if used together with the book, and is very helpful!
---
---
A Treasury of Jewish Coins : From the Persian Period to Bar Kokhba
---
Dictionary of Greek Coin Inscriptions: English/Greek
---
Roman Silver Coins: The Republic to Augustus, Vol. 1
---
Roman Silver Coins: Tiberius to Commodus, Vol. 2.
---
Roman Silver Coins, Volume Three: Pertinax to Balbinus & Pupienus
---
Roman Silver Coins vol IV
---
Roman Silver Coins, Vol V, Carausius to Romulus Augustus
---
Ancient Coin Collecting (v. I),
---
Chronological List of All Roman Emperors, Empresses and other Important Personages on Ancient Coins
Feel the past as you explore the ancient world through these historical ancient Roman coins of the emperors, empresses and important personages. Below is an almost complete list of all ancient Roman historical personages that have ever struck a coin. A challenge for some, who are willing to accept it, is to collect a single coin of every single emperor. This list is available inside my eBay as the 'Collecting Guide Link'. Some of these emperors are more rare than others, so you may want to be the first to buy them before they're gone into a collection forever! Some people choose to take the route of building up a collection of every single emperor, or sometimes, every single emperor and empress, and it may take a lifetime, but the challenge is exciting. You can build up a collection without some or the rarer emperors and empresses in an affordable fashion for almost anyone. Some people value a collection of ancient Roman coins as more valuable as it takes time and effort to put it together. With the list below, you can search my ancient coins store and find the right coins out of thousands that are available! You have many advantages that collectors of the previous decades never had, some of which include, a great list like this, a fantastic selection and the ability to make offers on the items available.
---
Royal Ladies on Ancient Coins - The Power Behind the Ancient Empires
The ancient times were populated with many royal rulers. Many people do not even look at the power behind the throne was actually, many times, a woman! They were mothers, grandmothers and care-takers and so much more! Many dominating the heights of political power. So there were many women whom had ancient coins that were issued, either with their portrait or in their honor. This guide will take you to a world of mystery and intrigue of the ancient past, to explore what most have forgotten. Enjoy!
---
Christianity spread originally in the ancient Roman empire. The emperor Constantine I, the Great had the First Council of Nicaea standardize Christianity circa 325 A.D.. Since those times, the symbols of Christianity were well wide-spread on ancient coinage. Certainly an interesting topic to collect and explore. This article puts many different topics relating to Christianity together for a quick guide to those topics on ancient coins. There may be more topics to explore, and I would like to add them to the list, if you should like to let me know about them. May this be helpful to you.
---
Wild, exotic animals, available throughout the ancient Greek and Roman empires. Some brought back to Rome for spectacles in amphitheaters and the Colloseum. Others depicted as symbols of legions or entire regions. Just like we have zoos in modern times, the ancients too were fascinated by the exotic beauty and even possible danger these animals presented. The ancient Greeks and Romans put animals on their coins and are a very interesting topic in themselves to collect, especially for animal lovers. Below is a list of 26 amazing animals depicted on coins, many of which there are authentic ancient Greek and Roman coins available. A world of intrigue, wonder and amazement awaits you ...
#1 Horse on Ancient Greek and Roman Coins
#2 Lion on Ancient Greek and Roman Coins
#3 Bull on Ancient Greek and Roman Coins
#4 Eagle on Ancient Greek and Roman Coins
#5 Panther on Ancient Greek and Roman Coins
#6 Ram on Ancient Greek and Roman Coins
#7 Wolf on Ancient Greek and Roman Coins
#8 Dog on Ancient Greek and Roman Coins
#9 Hound on Ancient Greek and Roman Coins
#10 Dove on Ancient Greek and Roman Coins
#11 Camel on Ancient Greek and Roman Coins
#12 Stag another word for deer on Ancient Greek and Roman Coins
#13 Bee another word for deer on Ancient Greek and Roman Coins
#14 Antelope another word for deer on Ancient Greek and Roman Coins
#15 Elephant on Ancient Greek and Roman Coins
#16 Snake on Ancient Greek and Roman Coins
#17 Serpent on Ancient Greek and Roman Coins
#18 Fish on Ancient Greek and Roman Coins
#19 Ox on Ancient Greek and Roman Coins
#20 Boar "pig" on Ancient Greek and Roman Coins
#21 Pig on Ancient Greek and Roman Coins
#22 Owl on Ancient Greek and Roman Coins
#23 Crab on Ancient Greek and Roman Coins
#23 Dolphin on Ancient Greek and Roman Coins
#24 Cow on Ancient Greek and Roman Coins
#25 Calf on Ancient Greek and Roman Coins
#26 Octopus on Ancient Greek and Roman Coins
---
Walking down the street you may see a lion on a prominent building at the center. As you walk further down on Wall Street, you see the charging bull. You look up at a sign and you see a Griffin combined with a logo. You pull out a quarter dollar out of your pocket and see an eagle. You pass by the Armani store, you see the medusa head. You pick up a sandwich and see the Boar's head logo. You look up your horoscope and you see another intriguing mythical creature. All around you, you start realizing that certain symbols are as old as civilization themselves. Mythical creatures are all around you.
Connect tot he ancient past and learn more about the symbolism behind them by studying ancient Greek and Roman coins. Each one is an area of exploration all on it's own. Many twists and turns await you as you explore a world of mystery and intrigue. You may never see the modern world the same.
---
Having collectibles as an investment can be a great way to diversify your investment portfolio and minimize risk. The general rule of thumb is to invest in what you love when it comes to collectibles so that if your collection doesn't realize a return, you still get to enjoy your collection.
With uncertainty ever present in the public and private markets coupled with recession and other economic ups and downs, tangible assets, also known as hard assets, present a variety of options for investors who want to put money toward areas of their personal interest.
These may include income producing assets such as timberland, farmland, and commodities of all kind. For more general information on investing in tangible assets, click here.
Collectibles are fast becoming a popular investment vehicle for those who have lost trust in the public stock markets or are tired of fluctuations. Tangibles allow an investment to appreciate in value over time, which appeals to investors; however, personal interest in a tangible asset remains the number one reason people choose to invest in collecting them. Rare coins are considered to be a commodity-like investment where sentimental value may exist, but coins are one tangible that can also produce attractive financial returns.
Note that there is a distinction between coins as bullion and coins as numismatics. Bullion has a higher 'melt value' – the value the metal would be worth if melted down. Numismatic coins, because they are often much older and made of various metals and components, have a lower melt value and are worth less when melted then they are in coin form. The general rule of thumb is to buy bullion for business, numismatics for fun.
This is the second in an AIMkts® series providing an introduction into various subclasses of antiques and collectibles. This installment: rare coins.
Why rare coins?
People collect rare coins for the same reason people collect art, says Ilya Zlobin, ancient numismatic coin expert, dealer and enthusiast of TrustedCoins.com. "Rare coins, especially of the ancient Greeks and Romans capture the feel and the art of the time period [like] statues and architecture that have long been lost to history…" Also, says Zlobin, there is a very high upside resale potential should investors make the right buy for the right price.
"…Stories of exponential growth understandable stoke investor interest in the world of collectibles," according to a 2012 Barclay's report. However, "Relatively few wealth individuals own treasure solely for its financial characteristics. Investors that do seek financial returns on insurance from their treasure typically favor commodity-like items, such as precious metals, coins and jewelry."
Once nicknamed "the hobby of kings", collecting coins has become an everyman's game thanks to a rise in numismatic scholarship, education, access to information and a growing sophistication of the general public over the last 500 years and is popularly referred to as "the king of hobbies". For the average person, owning coins make possessing a piece of history remarkably accessible, and for those with an interest in antiquities, coins are more accessible, in general, than larger, tangible asset investments.
For beginners, collecting rare coins may seem daunting. Experts and experienced collectors offer this advice:
Specialize – Choose a particular emperor, denomination, theme or time period and use it to guide how you invest. Stay focused on a particular concentration and build within that. Financier Louis E. Eliasberg did just that and his collection got him listed among the world's most famed collectors.
Scrutinize – Don't just pick randomly from your choices. Know what you're looking for and examine coins carefully to make sure they fit with the direction you're taking your collection.
Study – Collectors shouldn't just take the opinions or advice of sellers. Collectors should become experts themselves, studying up on values, denominations, rarity and other aspects of the area in which they intent to collection so as to make an informed decision when investing. Read trade magazines, talk to other collectors and learn what questions to ask. Never buy what you don't understand. Study up on some coin collecting lingo here.
Start Small – Buying small will allow investors to start collecting without betting the farm. Buying large quantities of coins or buying high priced coins should only come with experience. While buying rare coins or coins minted with historically importance is ideal, amateur or inexperience collectors should never spend large amounts of money on coins they don't understand. Collector and numismatics mentor Susan Headley notes, "If you can't afford to shell out $2,000 [per] coin to buy…high grades, then buy common coins in the finest grades you can."
Grading
Adding to that advice, we caution all coin investors to know their dealer. Investing in rare coins is as much as investment as putting money toward any asset class – trust is key. As a purveyor of rare coins, Zlobin notes that the grading scale is subjective one, with Good (G) being the lowest, to Very Good (VG), then Fine (F) followed by Very Fine (VF), followed by Extra Fine (EF) and finally, a perfect mint-state called Fleur-De-Coin (FDC).
The overall appearance of a coin and its appeal to buyers and sellers alike are all highly subjective matters and grading standards may vary. Well-known houses like Heritage Auctions provide some guidance and the Professional Coin Grading Service, among others, can give a point of reference as well, but keep in mind that very fine distinctions between coins will make a big difference in its worth, even thousands of dollars' worth of difference for the smallest distinction. Subjectivity is considered to be one of the risks in rare coin investing.
"With many dealers and collectors, the coin's state of preservation and aesthetic beauty are of paramount importance. In other words a beautiful coin is more desirable, and also much rarer in that state of preservation," says Zlobin. "There are other things that are important for ancient numismatic coins, too, such as centering, the artistic beauty of the strike and its sharpness. Ancient coins were struck by hand, so a coin in fantastic preservation that is nicely centered and of an interesting historical character, period or city would have higher value."
Speaking of risk…
"Caveat emptor" says Zlobin. "Deal with people that provide a guarantee and a good track record with their coins [and] with people you know and trust. Always ask for the best possible price."
Just like any investment has inherent risk, coin collecting is no different. Are the risks any greater or less than investing anywhere else? Not if you invest in what you love, say collectors. "There are many reputable dealers out there," says Zlobin "It is a very big advantage to deal with them, as many have knowledge and experience, and know that it's just good business to sell only authentic coins."
However, the Federal Trade Commission has issued warnings to help protect consumers from fraud. Read the warning here. False claims about grading, current value and buy back options are the most common ways investors lose money when collecting coins. "Examine coins in person. It's difficult, if not impossible, to make a practical decision about buying a particular coin based on a photo or a conversation with the seller," advises the FTC. "Check out any coin dealers in a search engine online. Read about other people's experiences. Try to communicate offline if possible to clarify any details. In addition, contact your state Attorney General and local consumer protection agency." And always get a second opinion.
Zlobin's risk advice to investors is:
Always try to get the best possible price – Investing in rare coins doesn't have to break your bank. Some dealers can give you breaks as the margins are often-times sufficient for everyone to be happy.
Be detached about the outcome of the deal – Do your best to secure a great deal, but be an investor that can also think as a collector. This way you win either way.
Keep records of how much you paid for a coin, and all receipts – This will give you a record of the coin's grade, and purchase information. Also, if you want to sell these investments and realize a profit, you'll need to be organized.
Work with dealers willing to prove themselves – Some dealers provide a lifetime guarantee of authenticity, and some will issue certificates of authenticity.
Return on Investment
In general, investors can expect rare coins to have an investment horizon similar to most other investments – one that will last for a few months to many years. "I have seen ancient coins sold at one major auction house, to be sold just several months later and for more money at another auction house," says Zlobin. "Yes, it is possible to make money rather quickly with intimate knowledge of the market [but] the money in ancient numismatic coins is made during the purchase of the item. A good rule of thumb is to always do your research and know that you can at least get what you paid for the coin back… With uncertainties about the valuations of all the global currencies, it is a good idea to hedge your net worth with this being a great avenue for storing wealth. Numismatic coins especially may carry a higher resale value than gold or silver bullion, as they are not as prone to those specific market fluctuations."
There are professional numismatic reference sites, where investors can trace the price trends of many different coin types going back many years and get an idea of how certain coins will fare on the resale market. Although any investment carries risk, and although almost all dealers of any investment will tell you that "past performance is not an indicator of future results", investors can make informed decisions about their coins by taking a look at how the pros have traced them through the years.
Is collecting rare coins for you?
So, who are the buyers of rare coins? For the most part, they are anyone who is interested in owning a tangible piece of history. "For ancient numismatic coins specifically, the historical value is very important," Zlobin says. "For example, a Julius Caesar coin sells in any market in practically any condition. Another well-known name would be Alexander the Great."
Coin collecting, known as "the king of hobbies" is an investment almost anyone can make. For serious investors, coins are a tangible asset that will provide diversity in an investment portfolio and help hedge against inflation as the value of rare coins is generally stable. "A lot of people don't know this, but ancient coins are actually quite abundant,"according to Zlobin. Some celebrities and many other famous individuals are known to be avid coin collectors such as J.P. Morgan, the Hunt brothers hockey great Wayne Gretzky, Buddy Ebsen (aka "Jed Clampett"), and Nicole Kidman.
"Coins, especially numismatic coins, are a beautiful asset to have," says Zlobin. "Think about how tough it would be to fit a huge painting or a statue or another heavy work of art in your pocket, but an ancient coin can be placed in your pocket, yet be worth quite a lot of money. So you can say the reason why coins are so popular is that they are the original form of money and will always have some sort of value, whether intrinsic or numismatic, or both."
By Alicia Purdy, Contributing Editor, Accredited Investor Markets
Reprinted with permission from Accredited Investor Markets (www.aimkts.com
)
---
Ancient Roman and Greek Gods, Goddesses, Deities and Mythical Characters to Collect on Coins
A world of mystery, intrigue and fantasy awaits. See the various gods, goddesses, and mythical deities and characters available to collect on ancient Greek and Roman coins. Transport yourself to the ancient past, explore the unexplored and collect authentic ancient coins of those various deities. This article was intended to expand on various ideas for a coin collector and a fantastic coin collection. Enjoy!
#1 Zeus on Ancient Greek Coins Jupiter, his Roman Equivalent Ancient Coins
#2 Hercules on Ancient Greek and Roman Coins
#3 Ares on Ancient Greek Coins | Mars, his Roman Equivalent Ancient Coins | Virtus, the god of valor, often depicted like Mars or Ares on ancient Roman Coins
#4 Nymph the Ancient Greek Deity depicted on Greek and Roman coins
#5 Felicitas the Ancient Roman goddess of luck | Fortuna the Ancient Roman goddess of luck | Tyche the Ancient Greek goddess of luck - Luck goddesses.
#6 Hera on Ancient Greek Coins | Juno the Ancient Roman Goddess on Coins
#7 Nike, the ancient Greek goddess of victory ancient coins | Victory the Ancient Roman Goddess of Victory - Both I believe to be the ancient depictions of what later was known to be angels.
#8 Apollo on Ancient Greek and Roman Coins, the god of music, healing and light (sun)
#9 Helios, the sun god, on Ancient Greek Coins | Sol, the sun god, on Ancient Roman Coins
#10 Artemis, the goddess of the hunt on Ancient Greek Coins | Diana, the goddess of the hung on Ancient Roman Coins
#11 Aphrodite, the goddess of love on Ancient Greek Coins | Venus, the goddess of love on Ancient Roman Coins
#12 Spes, the goddess of hope on ancient Roman coins
#13 Laetitia, the goddess of happiness on ancient Roman coins
#14 Isis, the originally ancient Egyptian goddess on ancient Roman and Greek coins
#15 Athena the ancient Greek goddess of wisdom on coins | Minerva the ancient Roman goddess of wisdom on coins
#16 Concordia, goddess of agreement in marriage and society on ancient Roman Coins
#17 Aequitas on ancient Roman Coins - Aequitas is the nominative form of the Latin �quitatem, meaning justice, equality, conformity, symmetry, or fairness, and is the source of the modern word "equity".
#18 Justitia, the Roman goddess of Justice on ancient Roman Coins
#19 Eros, the primordial god of sexual love and beauty on Ancient Greek Coins | Cupid, the primordial god of sexual love and beauty on Ancient Roman Coins
#20 Libertas, the god of liberty on ancient Roman coins
#21 Pietas, the god of piety on ancient Roman coins
#22 Vesta on ancient Roman coins - Vesta was the virgin goddess of the hearth, home, and family in Roman religion.
#23 Genius on ancient Roman coins - In ancient Roman religion, the genius was the individual instance of a general divine nature that is present in every individual person, place, or thing.
#24 Demeter on ancient Greek coins | Ceres on ancient Roman coins | Annona on ancient Roman coins - Goddesses that are depicted in connection with the harvest.
#25 Asclepius the Ancient Greek and Roman god of medicine
#26 Hygeia on Ancient Greek and Roman coins - Hygieia, or Hygeia, was a daughter of the god of medicine, Asclepius. She was the goddess of health, cleanliness and sanitation and afterwards, the moon.
#27 Salus on Ancient Roman coins - Salus (Health) a Goddess of the Romans, the same that was worshipped under the name of Hygeia by the Greeks, who feigned her to be the daughter of Asclepius and of Minerva.
#28 Telesphorus on Ancient Greek and Roman coins - In Greek mythology, Telesphorus (or Telesphoros; Τελεσφόρος) was a son of Asclepius. He frequently accompanied his sister, Hygieia. He was a dwarf whose head was always covered with a hood or cap. He symbolized recovery from illness, as his name means "the accomplisher" or "bringer of completion" in Greek.
#29 Persephone on Ancient Greek and Roman coins | Kore on Ancient Greek and Roman coins - In Greek mythology, Persephone also called Kore (the maiden) is the daughter of Zeus and the harvest-goddess Demeter, and queen of the underworld.
#30 Priapus on Ancient Greek and Roman coins - In Greek mythology, Priapos (Ancient Greek: Πρίαπος), Latinized as Priapus, was a minor rustic fertility god, protector of livestock, fruit plants, gardens and male genitalia. His Roman equivalent was Mutunus Tutunus. He was best noted for his huge, permanent erection, which gave rise to the medical term priapism.
#31 Poseidon on Ancient Greek and Roman coins | Neptune on Ancient Roman coins - Poseidon was the god of the sea, and, as "Earth-Shaker," of earthquakes in Greek mythology. Neptune (Latin: Neptūnus) was the god of water and the sea in Roman mythology and religion.
#32 Pax, the goddess of peace on Ancient Roman coins
#33 Janus the Ancient Roman God of Beginnings and Endings, doors and name behind our month January
#34 Abundantia, the ancient Roman goddess - Abundantia was the Roman goddess of good fortune, abundance and prosperity.
#35 Hermes, Greek god of commerce | Mercury, the Roman equivalent of the Greek god Hermes
---
It is interesting to see the imagery of plants on various different ancient Greek and Roman coins, which you can see here. Plants played an important role in their lives and were depicted often on ancient coins. Some of the meanings they had were abundance, success, well-being, fertility and more. This article explores the various imagery seen on ancient coins. You can see the various depictions by clicking on the coins in this article.
The apple that Venus holds is the golden prize apple winning the contest between the other goddesses for winning the award for being the "fairest one". There is also the palm branch she holds, which symbolized victory and is a symbol often used on ancient coins. Read more about the Judgment of Paris here
---
The olive branch of Pax, the goddess of peace, holds the olive branch that symbolized peace. According to Roman mythology, Pax (whose Greek counterpart was Eirene) and was recognized as the goddess of peace during the reign of Roman emperor Augustus. She was the daughter of Jupiter and Iustitia. There were two temples on the Campus Martius, called the Ara Pacis, and another one was Forum Pacis. In art and on ancient Roman coins, she would often hold the cornucopia, olive branch and scepter. A festival was celebrated in her honor on January 3rd.
---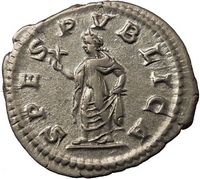 The Goddess of hope, Spes holds the flower on coins where she is depicted.
In Roman religion, Spes was the goddess personifying hope. Many temples to her were built. She had much personal worship to her, along with state cult worship. In the time of the Roman Republic, the temple to Spes vetus "ancient Hope" was ostensibly located by the Praenestine Gate, connected tot he events of the 5th century B.C. As a personification of the Imperial cult, Spes was a divine personification of the one of the Virtues connected to the emperor. Specifically the virtue was the Hope for the ability of the emperor to create blessed conditions for his people.
Rhodes the ancient Greek island city, depicted the rose on their coins.
---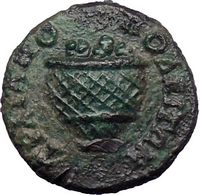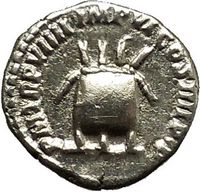 Fruits were depicted on ancient coins also. Interesting to note how more modern artists of our times, still draw fruits to this day!
Modius was a measurement of produce, based on the Hellenistic system with influences from Hebrew, Egyptian and Mespotamian sources. Under the Romans, these units were quite consistent and document well.
Serapis would be depicted with a modius on top of his head.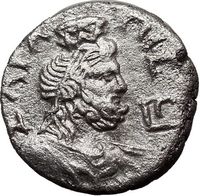 ---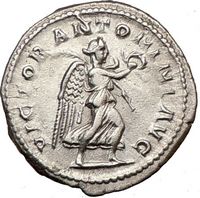 Victory the ancient Roman goddess, personifying victory, the Roman parallel to Nike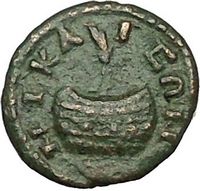 She is often depicted with the palm branch, which is a symbol of victory. The branch is depicted on coins including olympic-style athletic games, prize urns.
The wreath that is depicted is a usually laurel, and is at times of oak. It's symbolism was that of victory in ancient Greek and Roman times, and it still has a connection to in modern English language. The expression of "resting on one's laurels" means resting completely on one's past successes and "look to one's laurels" means to take one's past successes as a way to encourage themselves towards future successes. The Greeks would award wreaths in athletic and even Olympic competitions. In ancient Rome, wreaths would be used to crown the victorious commander for his successes. Wreaths would be made of different types of plants. The olive wreath was connected to Apollo. The oak wreath was connected to Jupiter (Roman equivalent of Zeus). The wreath symbol was used often on ancient Greek and Roman coins. The wreath on ancient Roman coins is often depicted being held by Jupiter's (Zeus') sacred bird, the eagle, and also Victory (Nike) and by other deities less often; and many coins with emperors depicted wearing it; and at times, entire designs being surrounded by a wreath.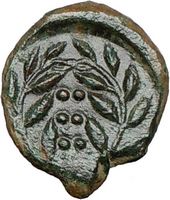 ---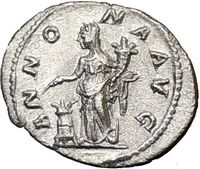 Annona the ancient Roman goddess of agriculture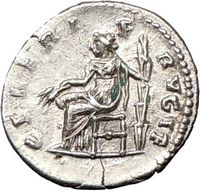 Annona (from Latin annus, year), in Roman mythology, is the personification of the produce of the year. She is represented in works of art, often together with Ceres, with a cornucopia (horn of plenty) in her arm, and a ship's prow in the background, indicating the transport of grain over the sea. She frequently occurs on coins of the empire, standing between a modius (corn-measure) and the prow of a galley, with ears of corn in one hand and a cornucopia in the other; sometimes she holds a rudder or an anchor.
There is also the goddess Ceres that is depicted on ancient coins, her Greek equivalent was Demeter. Ceres was the Roman goddess of agriculture, fertility, motherly relationships and crops of grain. The Greek goddess Demeter, was the goddess of the harvest, fertility of the earth, grains, seasons and the year.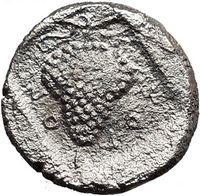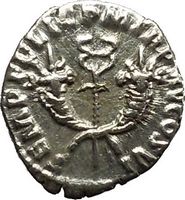 ---
Grapes were depicted on many ancient coins, which were connected to the gods Dionysus who is often depicted holding them.
There is also a cornucopia, or the horn of plenty, a symbol of wealth which is seen being held by various different gods and goddesses. One of the goddesses is Abundantia, the goddess of abundance. From Latin, cornu copiae, the cornucopia was a the "horn of plenty" symbolizing nourishment and abundance. It was commonly symbolized being a horn-shaped receptacle overflowing with produce such as fruits, grains, things one can eat and other types of wealth. The cornucopia continued it's use in Western art and is associated with the holiday of Thanksgiving in America.
---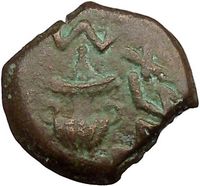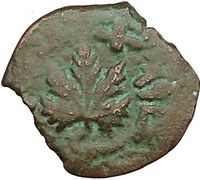 This interesting coin of the Jewish people of Jerusalem, circa 69-70 A.D., depicts the Amphora which holds goods, such as olive oil, whine, et cetera and the vine leaf, for the wine which was important to their religious ceremonies.
---
I wrote this guide for people to figure out what are the most interesting, yet cheap ancient coins that a person can buy and collect. Coins that are valued for their historical names and motifs. Also coins that you can buy relatively cheap and quite memorable for people to may want to buy from you should you ever want to sell them down the line. Also coins that you may love to own yourself for a great ancient coin collection started for a low price.
#1 Alexander the Great Coins - His coins are just fantastic to own and collect because even though thousands of years have passed, his name is known by more people than ever before with great films and books about his life and conquests.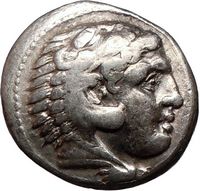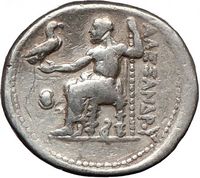 #2 Constantine the Great Coins - Also known as Christian saint or Saint Constantine. His coins are very affordable to own and can be as low as twenty dollars.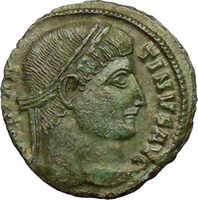 #3 Saint Helena Roman Empress Mother of Constantine the Great - Very influential woman in early Christianity.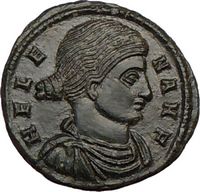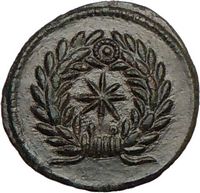 #4 Jesus Christ Coins and Coins Connected with Him - Early Roman coins did not depict the image of Christ, but did depict things associated with him such as the Chi-Rho, cross, and phoenix.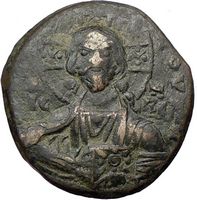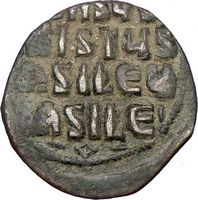 #5 Philip II ancient Greek coins connected with Olympic Games Victory - Very interesting and affordable ancient Greek coins associated with the ancient Olympic games.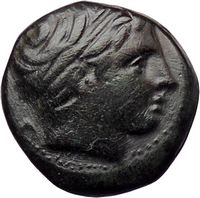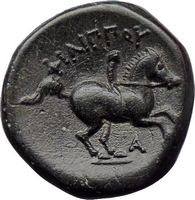 #6 Roman Republic Coins - This is an interesting time period, before Rome turned into an empire and had dictators, and has a lot of interesting symbolism to the Roman Republic and it�s virtues.
#7 Julius Caesar coins - These coins are always great to own because of the name and are a great coin if you ever need to resell it because of it�s popularity.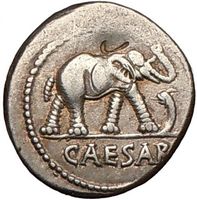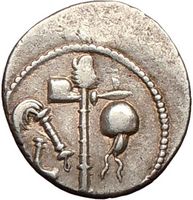 #8 Athens Attica Greece ancient Greek coins - Probably the most famous ancient Greek city, and her coins are fascinating.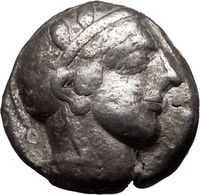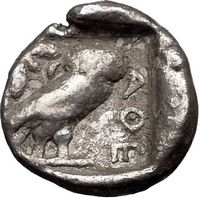 #9 Augustus first Roman emperor coins - Very interesting emperor, whom actually had a period of peace called �Pax Romana� and issued many coins, making them very affordable.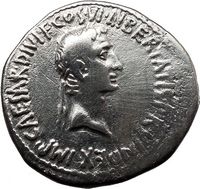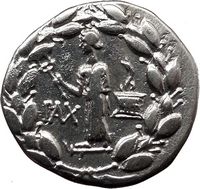 #10 Marcus Aurelius coins - The very famous emperor, known for his writings and depicted in the movie Gladiator, his coins being quite popular.
---
Examples of ancient Roman camp gates from the period of Constantine I featuring 2-4 turrets
A recent interpretation or meaning has come about that the turrets on fourth century camp gates were actually a sort of a signal beacon, using fires to send messages. Most ancient Roman coins depicting the camp gate featured the inscription PROVIDENTIAE AVG or PROVIDENTIAE CAES. The root of the word providentia is provideo which means foresight. Providentia being the quality of the emperor caring for his people with an aspect of it, looking out for the security of the frontier. As the ancient Roman coins were used by the Roman emperors as propaganda pieces, it is likely the message it communicated the people were safe from invasions. During this time period, protection of the frontier would have been an important issue for the empire.
The fire signal was used since the time of the Greeks, so it is likely that these coins actually were a way of saying that he had improved it and made it more effective. One of the most famous examples of the fire signal being used was during the American Revolution by Henry Wadsworth Longfellow in his famous poem Paul Revere's ride. "One if by land two if by sea". This helped Paul Revere to receive the signal and raise everyone of to arms.
It was the author Polybius, who lived circa 200-118 B.C., that informs us that Philip V, the king of Macedon was being kept informed of what happened in Phocis and Boeotia by fire signal. And Julius Caesar was informed by fire signal about the movement of Pompey the Great's troops during the civil war.
Polybius described two systems of using the fire signal. One was having two vessels of water of the same size and the same sized hole in them. At each level of water was a specific agreed-upon message. So when the torch was raised, the other tower would open the cork and was then given the signal to stop the water at the specific message. This would have been useful system and efficient with practice, however it could not send unforeseen messages. So Polybius describes a system which he claims to have refined using two sets of five torches, dividing the alphabet into five parts. So for the first letter one torch on the left would be lifted, and one torch on the right. For letter number six, two torches on the left and one on the right and so forth.
The ancient author Polybius writes:
"I don't think I can continue without a full discussion of fire signaling, which is now of the greatest military value, but which used to have major shortcomings. Timing is obviously important for success in any matter; but especially in war, and fire signals are the most efficient means of helping us. They can tell us what has only just happened or even what is currently happening and, with them, anyone who wishes can be kept informed even at a range of three, four, or more day's travel. Help can thus be summoned by signal surprisingly quickly when needed. At one time, fire signals were just beacons, and so were frequently of only limited use to their users. For they could only be used for pre-arranged signals and as real events are unpredictable, they could generally not be communicated by fire-signals. If we take the example I have just mentioned [Philip V ], one could send news that a fleet had arrived at Oreus, Peparethus or Chalcis, once one had arranged the relevant signals, but once could still not use fire signals to say that some of the inhabitants had changed sides, or been guilty of treachery, or that a massacre had happened in the town, or anything else of this nature. This sort of thing happens often but cannot be anticipated and it is generally the unexpected events, which demand fast decisions and responses. yet it was here the earlier system broke down, because it is impossible to agree on a signal for what one cannot foresee."
Another ancient author Julius Africanus from 220-245 A.D, describes how a fire signal was sent in his work the Kestoi:
"The Romans have the following technique, which seems to me to be amazing. If they want to communicate something by fire signal, they make the signals so: they select places that are suitable for making fire signals. They divide the fires into a right, a left and a middle fire so they read alpha to theta from the left-hand one, iota to pi from the middle one and rho to omega from the right-hand fire. If they signal alpha, they raise up the fire signal on the left once, for beta twice and for gamma three times. If they signal iota they raise the middle fire once, for kappa twice and for lambda thrice, and if they want to signal rho, sigma or tau, they raise the right-hand signal once, twice or three times. In this way should you want to signal rho you do not need to raise hundreds of fire signals, but, only one with the right-hand torch. Those who receive the signals then de-code them in the same way, or pass them on to the next station."
The system that this ancient author describes would work well with either the Greek or Roman alphabet as both have 24 letters. This description fits the three-turreted camp gate precisely. So it would be easy to adapt this fire signal to 2, turrets by having each beacon being 12 letters, 3 being 8 letters, and 4 being 6 letters each.
The ancient description that we saw is a simple rudimentary understanding of it. As this technology had obviously undergone many great adjustments. And this being a highly sensitive technology for the Roman army, the exact codes would have been kept a closely-guarded secret. It is possible that they may have also developed signal of a type similar to the modern Morse code for an even more efficient communication system.
An amazing area to collect. Ancient coins depicting the camp gate can be seen by clicking here.
---
The ancient Greeks and Romans used the chariot for war, racing, processions and travel. On ancient coins, the chariot was featured being driven by emperors, important personages and even gods and goddesses. They were usually pulled by horses, but on ancient coins sometimes even by flying serpents and goats. There is a certain excitement associated with the chariot that is almost archetypal. The Latin word "carrus" is the root of the English word "chariot". Imagine the excitement the ancient spectators would feel as they saw chariots racing around the Circus Maximus in Rome or even other parts of the empire. Chariots are a fascinating topic of study and collecting. See the sights and feel the feeling with these authentic ancient coins depicting the chariot here.
Biga, Triga and Quadriga chariots on ancient ancient Roman coins. Biga means a two horse, triga means a three horse and a quadriga means four horse chariot.
Interesting type issued for Constantine, after his death, where he is pictured taking a quadriga (four horse) chariot up to heaven with the hand of God accepting him.
---
The ancient Roman army is a fascinating subject to cover. From it, you can see what a legionary soldier was dressed like. You can also see the kind of fortifications that they had on some of the coins. Apparently the idea to put these topics on ancient coins was to show that the empire was still strong, even when it may have been stretched very thin. Here are just some of the interesting examples dealing with the subject of the ancient Roman army.
I trust you enjoyed this article, or gallery of various depictions very much! Let me know if there are more you would like to see.
---
The ancient peoples of Rome, Greece were very proud of their architectural achievements. The monuments they built projected the power of the ancient gods and goddesses, along with that of the rulers of those times. Architectural types on coins are very interesting to collect, as the ancient world had many temples, arches, camp gates, columns, roads, bridges, shrines, city gates, statues and so much more! Most of these monuments are now long gone, however these coins remain. A great area to collect!
Ancient Roman coins depicting the Camp Gate to the Legionary Campmp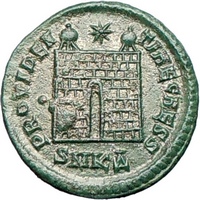 Ancient Roman coins depicting City Gates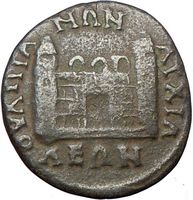 Temples on ancient Greek and Roman coins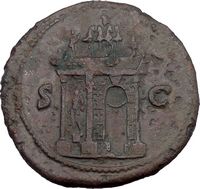 Columns on Ancient Roman coins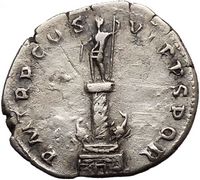 Roads as commemorated on this coin of emperor Trajan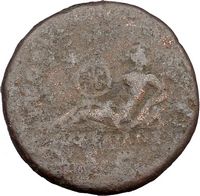 Bridges on ancient Roman coins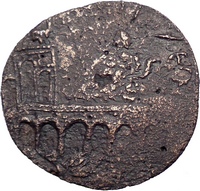 Shrines on ancient Roman coins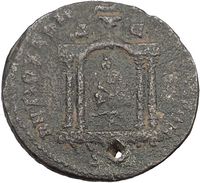 Statues as depicted on Ancient Greek and Roman coins, which were why some buildings were built to hold these statues of worship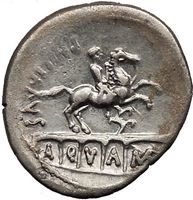 ---
For further reading, I recommend this book that delves deeper into the subject.
�Monumental Coins� is a bountiful tapestry of numismatics, history and architecture that explores the buildings found on ancient coins and the historical and cultural importance of these structures. In addition to a comprehensive gallery of actual coin photos, coins are illustrated by line drawings to reveal fine structural details. Computer-generated plans of the buildings, along with freehand illustrations of building reconstructions allow complete understanding of these ancient wonders.
---
#1 Size of Market You are aware of a market of ancient coins which is much less known than what other markets people think of such as that of gold and silver. So the advantage to this is that you can get the best prices as you have less competition from other buyers. So you can build up a great collection relatively cheap. Some of the wealthiest families have had or still have collections, with famous names such as Hunt, Rockefeller, Mercedes and much more. What I find is that if some of the most successful people are involved in it, then there is something to it.

#2 Historical Value The beauty and historical value of ancient coins are valued by collectors worldwide rather than just what the value of the metal contained in them. So in regards to numismatic coins, you have the advantage of the coins being valued for what they are, rather than just the value of the "scrap" or the intrinsic metal in them.

#3 Relatively Unknown Not everyone knows that ancient coins exist for sale, and if they did, that would lead to a meteoric rise in prices for ancient coins. This is where I come in. As my knowledge of coins and marketing increases, my coins will have even a higher value than any other coins out there. The reason being, the professional research, full-color certificates of authenticity, some of the lowest prices on the market and so much more, adding to their resale value.

#4 Variety There is such a huge variety of ancient coins to collect. From more famous names such as Julius Caesar, Alexander the Great, Constantine the Great, there is such a wonderful variety of ancient coins to collect. This makes this topic very interesting to collect because of all of the variety available.

#5 Connection to Past Ancient coins preserve our connection to the past. By owning ancient coins, we can learn a lot more about ancient history and bring it to life in our own hands. It is not the metal content of the coin that is valuable, it's the historical beauty it contains as it captures the aesthetics and history of that time period in a very portable format. Makes this a great heirloom for your family. Imagine starting a collection today, that spans generations!

#6 Teaching and Learning Resource Make great teaching aids for learning about ancient history

Growing up and reading books about history, I now realize how wonderful it would have been to hold an ancient coin from the time period of the Greeks or the Romans. And how much more motivated I would have been to learn about it, if the actual coins were in my hands! Also when you have the ancient coin in your hand, you want to go out and read the history on it, and anything it is connected to. You can say this allows you an expanded world view as your knowledge stretches back thousands of years.

#7 Great Gifts Ancient coins make great gifts!

There is something thoughtful about going into a selection of thousands of ancient coins and picking out the right ones for your friends and loved ones. Imagine giving a coin with a lion to a person of the Leo astrological sign, Mars or Ares for Ares sign, a coin with a Capricorn, and so much more. Maybe a coin of Alexander the Great for a person named Alex or Alexander. Or Philip II for a person named Philip. Or Mark Antony for a person named mark.

#8 Explore the World Ancient coins transport us to places where we dream to be. Ancient Greece, Rome, Egypt are all accessible now to you from the comfort of your own home.

#9 Resale Value Ancient coins have a great resale value. The idea is that you can resell ancient coins in the future to buy other things, get your money back or maybe even realize a profit. I cannot guarantee any prices you resell things for, but I would like to paraphrase Robert Kiyosaki when I say that you make money when you buy, not when you sell. So that is why ancient coins are great as you can acquire them at low prices, especially in my store, where you can make offers and receive a bargain.

#10 Large Value in Small Size

Think about the advantages of having ancient coins as it allows you to pack a lot of value in a small package. People buy various things, such as art and antiques, but nothing is as compact and transportable as ancient coins. You can put them in your pocket and go!

#11 Scarcity

Each ancient coin as each it was struck by hand by aligning a small metal planchet between an anvil and a punch and what would happen is that the coins would have different centering. Also the dies would crack so they would need to re-engrave them, so the design could be slightly different. Also some coins were struck with the fresh dies, so the design may be sharper and more prolific rather than one that struck a significant amount of coins. So every time you see a very beautiful coin, realize that in itself is more scarce than a coin that it is a combination of great centering, engraver's ability, sharpness and preservation so there is much to appreciate. What I have seen personally when visiting auctions, coins in superb condition actually would fetch astronomical prices. Some of the coins I feel that may fit this bill is my selection of my ancient silver Roman denarius coins. You can search my store for silver roman keywords.
---
Hold authentic ancient Greek and Roman coins that record some of the most significant events of the ancient Greek and Roman past. From the Olympic games, to victories over the infamous assassins of Julius Caesar, Brutus and Cassius by Augustus; to the founding of a new Roman colony of Viminacium where famous legions were stationed; to the famous founding of Constantinople by Constantine the Great and his commemorative coin dedicated to Rome with it's founders, Romulus and Remus, to show the significance of both cities. All coins are guaranteed authentic for a lifetime, and have a 30-day-no-questions-asked-money-back guarantee! They make great gifts and some find them to be great investments. You have come to the right place to start your ancient coin collection, as coin collecting has been a great hobby by people for thousands of years. With so many topics to explore about the ancient past, you will be amazed at what you will learn and see. Preserve history for the generations to come by owning it!
PHILIP II, the father of Alexander the Great 359BC Ancient Greek Coin Commemorating his Olympic Games Horse Racing Victory
Item: i29414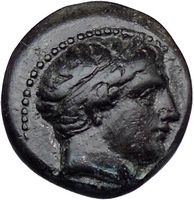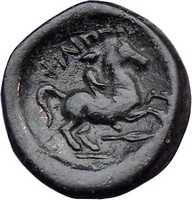 Authentic Ancient Coin of:
Greek King Philip II of Macedon 359-336 B.C.
Bronze 19mm (6.56 grams) Struck 359-336 B.C. in the Kingdom of Macedonia
Commemorating his Olympic Games Victory
Head of Apollo right, hair bound with tainia.
Nude athlete on horse prancing right, ΦIΛIΠΠΟΥ above.

* Numismatic Note: Authentic ancient Greek coin of King Philip II of Macedonia, father of Alexander the Great. Intriguing coin referring to his Olympic victory.
AUGUSTUS Victory Over Brutus and Cassius Philippi Ancient Roman Coins
Augustus - Roman Emperor: 27 B.C. - 14 A.D.
Bronze 18mm (3.80 grams) from the city of Philippi in Northern Greece,
Macedonia circa 27 B.C. -10 B.C.
Reference: BMC 23; Sear 32
VIC AVG, Victory standing on globe left.
3 legionary standards, 'COHOR PRAEPHIL'
Commemorates the victory of Augustus over the killers of Julius Caesar, Brutus and Cassius. This coin was issued to show that the empire was in the hands of one man alone at this point. Very important, historically significant coin.

Ancient Roman Coins Commemorating the Founding of Viminacium, the Base Camp for Legions VII and IIII see also Dacia
Item: i21760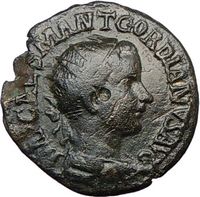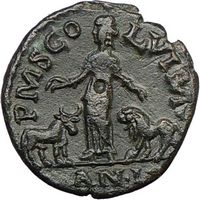 Authentic Ancient Roman Coin of:
Gordian III - Roman Emperor: 238-244 A.D. -
Bronze 22mm (6.83 grams) of Vimincium 238 A.D.
the 1st year of it's founding (=AN I) 23 in the province of Moesia Superior
IMP CAES M ANT GORDIANVS AVG, radiate, draped and cuirassed bust right.
P M S COL VIM, City goddess standing, bull (symbol for legion VII) and lion (symbol for legion IIII) at sides, AN.I. in exergue.

Viminacium was a major city of the Roman province of Moesia, and the capital of Moesia Superior. Viminacium was the base camp of Legio VII Claudia, and hosted for some time the IIII Flavia Felix. It was destroyed in 440 by the Huns.
Rome City Commemorative Ancient Roman Coins of Constantine I The Great 330AD with Romulus & Remus She-Wolf
Constantine I 'The Great'- Roman Emperor: 307-337 A.D. -
ROME CITY COMMEMORATIVE
Bronze AE3 18mm Struck circa 330-335 A.D.
VRBSROMA - Roma helmeted, draped and cuirassed bust left.
Wolf standing left, suckling Romulus and Remus; two stars above.
By circa 330 A.D., Constantine the Great completed his new capital for the Roman empire called Constantinople. For this momentous occasion, he issued two commemorative coin types, one celebrating Rome and the other Constantinople. The type that
commemorated Rome
had the personification of Rome, Roma with the inscription VRBS ROMA and the founders of Rome, Romulus and Remus on the reverse suckling the she-wolf. The type that
commemorated Constantinople
had the personification of Constantinople on the obverse and Victory on a galley sailing with a shield. This was a great way for Constantine the Great to pay homage to both Rome and Constantinople.
Coins of Constantine I, the Great Commemorating the founding of the new Roman capital, Constantinople
Constantine I 'The Great'- Roman Emperor: 307-337 A.D. -
Founding of New Roman Capital - CONSTANTINOPLE Commemorative -
BBronze AE318mm Struck circa 334-335 A.D.
CONSTANTINOPOLIS - Constantinopolis helmeted, laureate bust left, holding scepter over shoulder.
Victory standing left, stepping on galley prow, cradling scepter and resting hand on shield.

* Numismatic Note: Commemorates founding of Constantinople as new Roman capital by Constantine I the Great.
---
Giving the gift or collecting their Zodiac symbols is an exciting idea to a lot of people. Search out real ancient Greek and Roman coins that depict various symbols of Zodiac with this helpful guide. Enjoy!
---
You may be wondering about what is a great gift for the special people in your life. Did you know that the sweetest word in any language for anyone is their name. Yes! Remembering and saying people's name is more important than remembering any other details. It establishes a connection and makes the person feel special. It is also exciting to talk to a person about the origin of their name as it may mean something very special in their native language. What a lot of people don't know is how ancient, historically significant and important their names really are. Below is a list of names that can be encountered on ancient Greek, Roman, Byzantine and Medieval coins that if given as a gift, would leave a long and everlasting impression and gratitude for such a special personalized gift. The links below are easy to click and they will take you to my eBay store search page and input the name for you, so you don't have to remember any spellings.
If you are giving this as a gift, I would be happy to ship it to the person you would like to give it as a gift to, along with a special, customized message you can message you would like to provide them. This way it would make it easy to give such a special gift, to anyone in the world. You can message me on eBay with the special request, providing the specific shipping address and the message you would like to include. Items are shipped quickly and come with a very special certificate of authenticity which allows a beginner or an expert to appreciate the ancient coin you picked out.
Lots of blessings to you and your loved ones!
List of names:
---
The ancients were a well-traveled people. They built ships for travel and trade and connected vast parts of the world together. They worshipped gods that were connected to the ocean, placed them on their coins and anything else that they found particularly fascinating was placed on their coins. Just as modern-man fishes, enjoys going to the beach, looking at dolphins and traveling by sea, we are a just continuing a long tradition that stretch the millennia. So here is a list of topics to explore. Enjoy!
---
The ancient Greeks and Romans had many amazing gods and goddesses of protection for various things they concerned them with. There would be one specific attribute a god or goddess would have that they called on from them for protection. This article is meant as a general overview about the various types of gods and goddesses on coins and what they helped people with. Studying the ancient coins, it is captivating to think about the power of the mind to create gods and goddesses that manifested certain attributes you wanted to have. Something like commerce, family are somewhat abstract terms, however if you have a symbol, a god or goddess that stood behind it, it may have been easier to visualize and think about. It has been believed for hundreds of years, if not thousands of years, and written about the power of the mind to bring things about. It was roman emperor Marcus Aurelius, that said, "The universe is change; life is what thinking makes of it."
So my conclusion is that the gods and goddess in some ways allowed common people to think about specifics they wanted success with in their lives. A young woman may pray for the health of her family to the goddess Vesta. A traveling trader may have prayed to Hermes or Mercury for the safety of his travels. And perhaps at different shrines, men and women would pray to Aphrodite to find the love of their lives. A young soldier on the front may pray to Mars or Ares for success in the military campaign, or to Virtus for valor in battle. Many of the ancient symbols of these god and goddesses are still around us today, and we may or may not be noticing them. Let's explore some of their fascinating stories together.
The Gods and Goddesses of Protection
Genius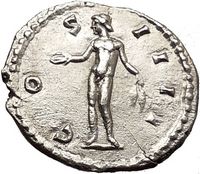 The Genius was a protection spirit, analogous to the guardian angels invoked by the Church of Rome. The belief in such spirits existed in Greece and at Rome. The Greeks called them Daemons, and appear to have believed in them from the earliest times, though Homer does not mention them. Hesiod says that the Daemons were 30,000 in number, and that they dwelled on earth unseen by mortals, as the ministers of Zeus, and as the guardians of men and justice. He further conceives them to be the souls of the righteous men who lived in the golden age of the world. The Greek philosophers took up this idea, and developed a complete theory of daemons. Thus we read in Plato, that daemons are assigned to men at the moment of their birth, that they accompany men through life, and after death conduct their souls to Hades. Pindar, in several passages of the spirit watching over the fate of man from the hour of his birth. The daemons are further described as ministers and companions of the gods, who carry the prayers of men to the gods, and the gifts of the gods to men, and accordingly float in immense numbers in the space between heaven and earth. There was also a distinct class of daemons, who were exclusively the ministers of the gods.
The Romans seem to have received their notions respecting the genii from the Etruscans, though the name Genius itself is Latin (it is connected with gi-gn-o, gen-ui, and equivalent in meaning to generator or father). The genii of the Romans are the powers which produce life (dii genitales), and accompany man through it as his second or spiritual self. They were further not confined to man, but every living being, animal as well as man, and every place had its genius. Every human being at his birth obtained (sortitur) a genius, who he worshipped as sanctus et sanctissimus deus, especially on his birthday, with libations of wine, incense, and garlands of flowers. The bridal bed was sacred to the genius, on account of his connection with generation, and the bed itself was called lectus genialis. On other merry occasions, also , sacrifices were offered to the genius, and to indulge in merriment was not infrequently expressed by genio indulgere, genium curare, or placarae. The whole body of the Roman people had its own genius, who is often seen represented on coins of Hadrian and Trajan. He was worshipped on sad as well as joyous occasions; thus, sacrifices were offered to him at the beginning of the 2nd year of the war with Hannibal. The genii are usually represented in works of art as winged beings. The genius of a place appears in the form of a serpent eating fruit placed before him.
Juno
Juno, called Hera by the Greeks. The word Ju-no contains the same root as Ju-piter. As Jupiter is the king of heaven and the gods, so Juno is the queen of heaven, or the female Jupiter. She was worshipped at Rome as the queen of heaven, from early times, with the surname of Regina. At a later period her worship was solemnly transferred form Veii to Rome, where a sanctuary was dedicated to her on the Aventine. As Jupiter was the protector of the male sex, so Juno watched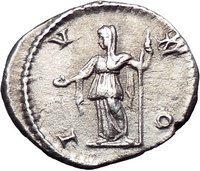 over the female sex. She was supposed to accompany every woman through life, from the moment of her birth to her death. Hence she bore the special surnames of Virginalis and Matrona, as well as the general ones of Opigena and Sospita, and under the last mentioned name she was worshipped at Lanuvium. On their birthday women offered sacrifices to Juno surnamed Natalis, just as men sacrificed to their genius natalis. The great festival, celebrated by all the women, in honor of Juno, was called Matronalia, and took place on the 1st of March. Her protection of women, and especially her power of making them fruitful, is further alluded to in the festival Populifugia, as well as the surname of Februlis, Februata, Februta, or Februalis. Juno was further, like Saturn, the guardian of finances, and under the name of Moneta she had a temple on the Capitoline hill, which contained the mint. The most important period in a woman's life is that of her marriage, and she was therefore believed especially to preside over marriage. Hence she was called Juga or Jugalis, and had a variety of other names, such as Pronuba, Cinxia, Lucina. The month of June, which is said to have been originally called Junonius, was considered to be the most favorable period for marrying. Women in childbed invoked Juno Lucina to help them, and newly-born children were likewise under her protection: hence she was sometimes confounded with the Greek Artemis or Ilithyia. In Etruria she was worshipped under the name of Cupra. She was also worshipped at Falerii, Lanuvium, Aricia, Tibur, Praeneste, and other places. In the representations of the Roman Juno that have come down to us, the type of the Greek Hera is commonly adopted.
Vesta
Vesta, one of the great Roman divinities, identical with the Greek Hestia, both in name and import. She was the goddess of the hearth, and therefore inseparably connected with he Penates; for Aeneas was believed to have brought the eternal fire of Vesta from Troy, along with the images of the Penates; and the praetors, consuls, and dictators, before entering upon their official functions, sacrificed, not only to the Penates, but also to Vesta at Lavinium. In the ancient Roman house,
the hearth was the central part, and around it all the inmates daily assembled for their common mean (coena); every meal thus taken was a fresh bond of union and affection among the members of a family, and at the same time an act of worship of Vesta, combined with a sacrifice to her and the Penates. Every dwelling-house therefore was, in some sense, a temple of Vesta; but a public sanctuary united all the citizens of the state into one large family. This sanctuary stood in the Forum, between the Capitoline and Palatine hills, and not far from the temple of the Penates. The temple was round with a faulted roof, like the impluvium of private houses, so that there is no reason to regard that form as an imitation of the fault of heaven. The goddess was not represented in her temple by a statue, but the eternal fire burning on her hearth or altar was her living symbol, and was kept up and attended by the Vestals, her virgin priestesses. As each house, and the city itself, so also the country had its own Vesta, and the latter was worshipped at Lavinium, the metropolis of the Latins, where she was worshipped and received the regular sacrifices at the hands of the highest magistrates. The goddess herself was regarded as chase and pure like her symbol, the fire; and the Vestals who kept up the sacred fire were likewise pure maidens. On the 1st of March every year her sacred fire, and the laurel tree which shaded her hearth, were renewed, and on the 15th of June her temple was cleaned and purified. The dirt was carried into an angiportus behind the temple, which was locked by a gate that no one might enter it. The day which this took place was a dies nefastus, the first half of which was thought to be so inauspicious, that the priestess of Juno was not allowed to comb her hair or to cut her nails, while the second half was very favorable to contracting a marriage or entering upon other important undertakings. A few days before that solemnity, on the 9th of June, the Vestalia was celebrated in honor of the goddess, on which occasion none but women walked to the temple, and that with bare feet. On one of these occasions an altar had been dedicated to Jupiter Pistor.
Hermes
Hermes, called Mercurius by the Romans. The Greek Hermes was a son of Zeus and Maia, the daughter of Atlas, and born in a cave of Mt. Cyllene in Arcadia, whence he is called Atlantiades or Cyllenius. A few hours after his birth, he escaped from his cradle, went to Pieria, and carried off some of the oxen of Apollo. In the Iliad and Odyssey this tradition is not mentioned, though Hermes is characterized as a cunning thief. That he might not be discovered by the traces of his f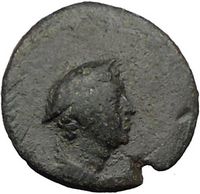 ootsteps, he put on sandals, and dove the oxen to Pylos, where he killed 2, and concealed the rest in a cave. The skins of the slaughtered animals were nailed to a rock; and part of their flesh was cooked and eaten, and the rest burnt. Thereupon he returned to Cyllene, where he found a tortoise at the entrance of his native cave. He took the animal's shell, drew strings across it, and thus invented the lyre, on which he immediately played. Apollo, by his prophetic power, had meantime discovered the thief, and went to Cyllene to charge Hermes with the crime before his mother Maia. She showed to the god the child in its cradle; but Apollo carried the boy before Zeus, and demanded back his oxen. Zeus commanded him to comply with the demand of Apollo, but Hermes denied that he had stolen the cattle. As, however, he saw that his assertions were not believed, he conducted Apollo to Pylos, and restored to him his oxen; but when Apollo heard the sounds of the lyre, he was so charmed that he allowed Hermes to keep the animals. Hermes now invented the syrinx, and after disclosing his inventions to Apollo, the 2 gods concluded an intimate friendship with each other. Apollo presented his young friend with his own golden shepherd's staff, and taught him the art of prophesying by means of dice. Zeus made him his own herald, and likewise the herald of the gods of the lower world.
The principal feature in traditions about Hermes consists in is being the herald of the gods, and in this capacity he appears even in the Homeric poems. His original character of the ancient Pelasgian, or Arcadian divinity of nature, gradually disappeared in the legends. As the herald of the gods, he is the god of eloquence, for the heralds are public speakers in the assemblies and on other occasions. The gods especially employed him as messenger, when eloquence was required to attain the desired object. Hence the tongues of sacrificial animals were offered to him. As heralds and messengers are usually men of prudence and circumspection, Hermes was also the god of prudence and skill in all the relations of social intercourse. These qualities were combined with similar ones, such as cunning, both in words and actions, and even fraud, perjury, and the inclination to steal; but acts of this kind were committed by Hermes always with certain skill, dexterity, and even gracefulness.
Being endowed with this shrewdness and sagacity, he was regarded as the author of a variety of inventions, and, besides the lyre and syrinx, he is said to have invented the alphabet, numbers, astronomy, music, the art of fighting, gymnastics, the cultivation of the olive tree, measures, weights, and many other things. The powers which he possessed himself he conferred upon those mortals and heroes who enjoyed his favor; and all how possessed them were under his especial protection, or are called his sons. He was employed by the gods, and more especially by Zeus, on a variety of occasions which are recorded in ancient story. Thus he led Priam to Achilles to fetch the body of Hector; tied Ixion to the wheel; conducted Hera, Aphrodite, and Athena to Paris; fastened Prometheus to Mt. Caucasus; rescued Dionysus after his birth from the flames, or received him from the hands of Zeus to carry him to Athamas; sold Hercules to Omphale; and was ordered by Zeus to carry off Io, who was metamorphosed into a cow, and guarded by Argus, who he slew.
In the Trojan war Hermes was on the side of the Greeks. His ministry to Zeus was not confined to the offices of herald and messenger, but was also hi charioteer and cupbearer. As drams are sent by Zeus, Hermes conducts them to man, and hence he is also described as the god who had it in his power to send refreshing sleep, or take it away. Another important function of Hermes was to conduct the shades of the dead from the upper into the lower world.
The idea of his being the herald and messenger of the gods, of his travelling from place to place and concluding treaties, necessarily implied the notion that he was the promoter of social intercourse and of commerce among them. In this capacity he was regarded as the maintainer of peace, and as the god of the roads, who protected travelers, and punished those who refused to assist travelers who had mistaken their way. Hence the Athenian generals, on setting out on expedition, offered sacrifices to Hermes, surnamed Hegemonius, or Agetor; and numerous statues of the god were erected on roads, at doors and gates, from which circumstance he derived a variety of surnames and epithets. As commerce is the source of wealth, he was also the god of gain and riches, such as are acquired by commerce. As the giver of wealth and good luck, he also presided over the game of dice.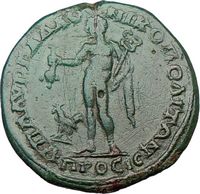 Hermes was believed to be the inventor of sacrifices. Hence he not only acts the part of a herald at sacrifices, but is also the protector of sacrificial animals, and was believe din particular to increase the fertility of sheep. For this reason he was especially worshiped by shepherds, and is mentioned in connection with Pan and the Nymphs. This feature in the character of Hermes is a remnant of the ancient Arcadian religion, which he was the fertilizing god of the earth, who conferred his blessing on man.
Hermes was likewise the patron of all the gymnastic games of the Greeks. This idea seems to be of late origin, for in Homer no trace of it is found. Athens appears to have been the first place in which he was worshipped in this capacity. At a later time almost all gymnasia were under his protection; and the Greek artists derived their ideal of the god from the gymnasium, and represented him as a youth whose limbs were beautifully and harmoniously developed by gymnastic exercises.
The most ancient seat of worship of Hermes is Arcadia, the land of his birth, where Lycaon, the son of Pelasgus, is said to have built to him the first temple. From thence his worship was carried to Athens, and ultimately spread through all Greece. The festivals celebrated in his honor were called Hermaea. His temples and statues were extremely numerous in Greece. Among the things sacred to him were the palm tree, the tortoise, the number 4, and several kinds of fish; and the sacrifices offered to him consisted of incense, honey, cakes, pigs, and especially lambs and young goats.
The principal attributes of Hermes are: 1. A travelling hat with a broad brim, which in later times was adorned with 2 small wings. 2. The staff, which he bore as a herald, and had received from Apollo. In late works of art the white ribbons which surrounded the herald's staff were changed into 2 serpents. 3. The sandals. They were beautiful and golden, and carried the god across land and sea with the rapidity of the wind; at the ankles of the god they were provided with wings, whence he is called alipes.
Conclusion
With just four gods and goddesses presented, I feel that your eyes too may have been opened to the vast array of interesting topics and stories that are associated with the gods and goddesses on ancient Greek and Roman coins. One conclusion I came up with is that perhaps the modern birthday candle perhaps is almost a modern version of burning 'sacrifice' similar to those given to the Genius or Juno on your birthday. Also, if you think about it, the eternal flames burn at multiple cities across the world and are sacred, so perhaps could in some ways be connected from psyche or symbolism of the ancient times; another connection being, the bearing of the Olympic flame to various locations. Also interesting to note is the March 1st Roman holiday being sacred to both Juno and Vesta and their interconnections. You can also explore the different Roman gods and goddesses in my eBay store (http://stores.ebay.com/Authentic-Ancient-Greek-Roman-Coins/) as their depictions and stories are amazing to behold, and even own on authentic ancient Greek and Roman coins.
---
An easy way to visit my eBay store today is by typing or clicking: www.ZeusCoins.com or www.TrustedCoins.com
You can find amazing deals on ancient coins using the links below.
Ancient silver coins:
---
These are links to searches such as Greek Roman and silver in my eBay store and sorted by lowest priced first, which you can do also. If for example you are looking for a certain sized coin, you can select "in titles and descriptions" and find all coins such as 18mm, 17mm, et cetera. This is useful if you are looking for something of a specific size you need for jewelry. So if you are looking for a specific coin.
How to Use the numbers on my Listings to Find Items You Like Again
Item: i36611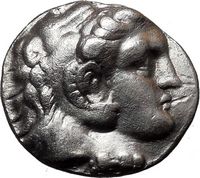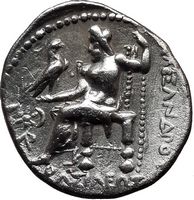 Here is an example of an Alexander the Great silver coin that is in my eBay store.
Right above the picture, it says item: i36611. If you write this number down (make sure to include the i, as in i36611), you can search for it later in my eBay store or on eBay by typing it in to find it again.
You are encouraged to Make Offers!
Shopping here is a win win for both of us. You can get a great discount by making an offer. This way it is a win win, you get an amazing deal and I am happy because I provided great value, service and may have you as a patron for a lifetime.
Welcome to the wonderful world of ancient coins!